---
Ingrid Mattson
---
---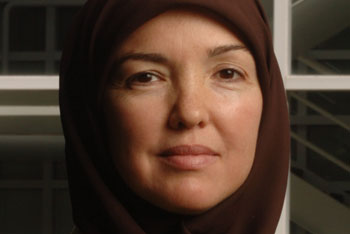 Dr. Mattson is Director of Islamic Chaplaincy and Professor at the Macdonald Center for Islamic Studies and Christian-Muslim Relations at Hartford Seminary in Hartford, Connecticut.
She earned her Ph.D. in Islamic Studies from the University of Chicago in 1999. Her research is focused on Islamic law and society; among her articles are studies on slavery, poverty and Islamic legal theory.
She was born in Canada, where she studied philosophy at the University of Waterloo, Ontario. From 1987-1988 she lived in Pakistan, where she worked with Afghan refugee women.
In 2001 Dr. Mattson was elected Vice-President of the Islamic Society of North America. Mattson has served as advisor to the Afghan delegation to the United Nations Commission on the Status of Women.
Her book, The Story of the Qur'an: its history and place in Muslim life, will be released by Blackwell Press in fall 2007.